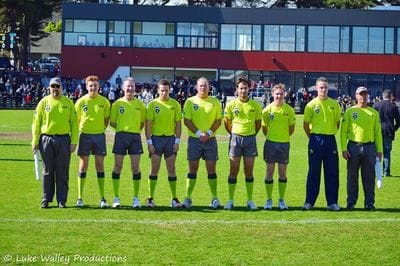 The Southern Umpires Association, one of the largest umpiring groups in Australia, has been involved in umpiring local football since 1959.
We provide field, boundary and goal umpires to the Mornington Peninsula Division One and Division 2 Football Netball Leagues. Our umpire development begins by also supplying umpires to the Mornington Peninsula Junior Football League.
---
Season 2019
The season has kicked off, with training well and truly under way.
Seaford
Monday nights at Kananook Reserve starting 6.00pm
Wednesday nights at Kananook Reserve starting 6.00pm
Fountain Gate
Monday nights at Carlisle Park starting at 6.00pm
Wednesday nights at Carlisle Park starting at 6.00pm
---
Latest Updates! - link
New Rules introduced by the AFL for season 2019
MPNFL Football will not inroduce the 6-6-6 Rule but all others will be implemented for season 2019
Season 2019 Fixtures
2018 Annual General Report
The initial Draft report, received back from teh Auditors is avaialble here
---
SUA Membership
The SUA is now accepting Applications for the 2019 Season
ALL UMPIRES - Footy Web Registration
Field and Goal Umpires Boundary Umpires
All umpires must also complete their FootyWeb Registration. This will automatically register you with the SUA and also link those details to Schedula.
NEW UMPIRES - Umpire Registration Form - Field and Goal Umpires Boundary Umpires
If you are beginning umpiring this season you will need to print off the form attached above, fill out all the information and bring it in to training and hand it to the front office as soon as possible.
Please remember you will also need to register with Footy Web above.
RETURNING UMPIRES - Umpire Renewal Form
All umpires returning this season are required to fill out the online renewal form above and submit it as soon as possible.
SCHEDULA - Online Appointment System
All returning umpires are required to log in and update any information required such as Bank Details, Email Adress, etc.
All new umpires will be enrolled by our administrator when you hand in your registration form.
---
Useful Links
WOMEN'S MATCH DAY PAPER WORK LINK - http://form.jotform.co/70998411314862
Please fill out the match day paperwork by clicking on the link and filling out the online form.
UMPIRE ACCREDITATIONS LINK - http://www.sua.org.au/umpire-accreditation.html
Please email certificates of completion to: accreditation.sua@gmail.com
---
Follow us on our Facebook Page
---
Interested in Umpiring?
If you love footy, you'll love being an umpire. Not only do you get the best view of the action, you also get paid for the privilege. It helps keep you fit, you get to be part of a team and you can learn leadership skills that you can take with you when you walk off the ground. They call it a job, but really, whether you're a field, boundary or goal umpire, it might just be the most fun you can have at work.
The SUA welcomes new members whether they are experienced umpires or new, we are always happy to accept new members. Those people who take the brave step benefit greatly from a supportive, professional and positive group at Southern Umpires Association. If you love the game and you want to keep fit, learn life skills, meet new friends and earn some money then umpiring is for you.
Regardless of your gender, nationality or physical capability there is a place for you in umpiring. It offers a welcoming, inclusive and fun environment. If you are interested, fill out the New Umpire Enquiry form or head to FAQs to find out more information.